Victoria Falls / Mosi-a-Tunya
Victoria Falls / Mosi-a-Tunya
Zimbabwe is proud to have the Majestic Victoria Falls within its territory, one of the seven natural wonders of the world, known in the in Tonga language as Mosi-oa-Tunya "The smoke that thunders'' the falls are 1708 meters wide and 108 meters high. When Zambezi River is flowing at its peak, water is discharged into the chasm below at a rate of nearly 550 million liters per minute, this curtain of falling water is the largest in the world and 70% of the exquisite views are seen from the Zimbabwe rain forest. Spray is driven high into the air by the sheer force of water, rising to over 400 meters, the spray can be seen from nearly 50 km away and can be felt throughout the area.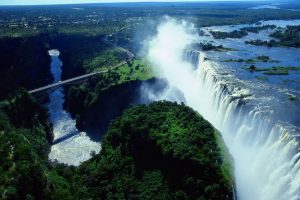 The rain forest which has constant rain 24/7 from the never-ending spray of the Falls, has unique ecosystem. It is a botanist's dream and bird lovers' paradise. There are species that don't occur anywhere else and our recommendation is that you look just a little beyond the pathway and the numerous viewpoints. Sight seers are advised to take an umbrella to avoid being soaked by the spray. No trip to Zimbabwe would be complete without a visit to Victoria Falls, one of southern Africa's most spectacular natural wonders. The best time to visit the roaring falls that stand before the raging Zambezi River is from February to May, directly after summer rains.
Entrance fee to see this timeless natural wonder in Victoria Falls is USD 30 for International visitors and USD 20 for SADC region visitors.
Zimbabwe Tourism Authority 2022