8 Best Zimbabwe Safari Destinations for Wildlife, Culture, History & Natural Wonders
8 Best Zimbabwe Safari Destinations for Wildlife, Culture, History & Natural Wonders
Article By Stephanie Parker, African Budget Safaris
Prepare to embark on an unforgettable journey, as we unveil the best places for a Zimbabwe safari. In this magical southern African country, wildlife, culture, history and natural wonders collide in a mesmerizing array of experiences.
So here are 8 of the best places to visit in Zimbabwe you won't want to miss!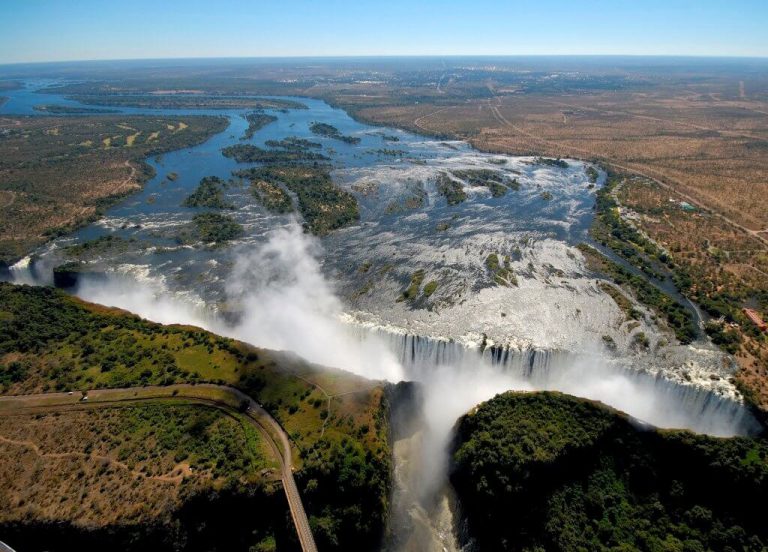 #1 Victoria Falls, Zimbabwe
Surely you wouldn't plan a Zimbabwe Safari without a visit to one of the world's most enormous and breathtaking natural wonders? That would be madness! Victoria Falls, located right on the northern border with Zambia, is hands-down one of the most awe-inspiring natural wonders on our planet. With its breathtaking beauty and immense power, it captivates visitors from around the globe, who come to Zimbabwe to see its legendary beauty. As one of the largest waterfalls on earth, Victoria Falls creates a mysterious curtain of mist that can be seen from miles away, and the almighty force of the Zambezi River, plunging into the gorge below, is a sight you'll never forget. With a range of thrilling activities to enjoy here too – including bungee jumping, whitewater rafting, and helicopter tours – thrillseekers are sure to be enthralled at Victoria Falls! But if you're more interested in wildlife than extreme sports, then there's a huge amount for you too at this amazing waterfall. 
Why not consider a classic safari destination for example? After all, life on and around the Zambezi River is teeming with incredible southern African flora and fauna. You could also take a peaceful cruise along the Zambezi River, enjoying some sundowners and a glorious African sunset, while spotting local wildlife along the riverbanks as you glide along. 
Otherwise, a guided canoe trip upstream of Victoria Falls is another great idea. Cruising through some of the calmer stretches and gentle rapids near Victoria Falls is another fantastic way to immerse yourself in the natural beauty of the river at a more gentle pace.However you choose to enjoy it, Victoria Falls is absolutely one of the best places to visit for wildlife and wonder in Zimbabwe if not Africa.
#2 Hwange National Park, Zimbabwe
 And if wildlife is at the top of your southern Africa agenda, then Hwange National Park, situated in the west of the country, should undoubtedly be next on your list of best places for a Zimbabwe safari. This reserve truly is a paradise for wildlife enthusiasts because, spanning over 14,600 square kilometers, it's the country's largest national park. Boasting an incredible diversity of flora and fauna, Hwange is renowned for its vast herds of elephants and offers unparalleled opportunities for up-close encounters with these majestic creatures. However, it's not just elephants that attract wildlife enthusiasts to this remarkable Zimbabwe safari destination. Hwange National Park is also home to a rich array of other wildlife including lions, leopards, giraffes, zebras, and a multitude of bird species.
You can enjoy exhilarating game drives, guided walks, and even the chance to immerse yourself more fully, by staying overnight in a variety of comfortable lodges or luxurious tented camps. Hwange guarantees a remarkable safari experience, promising visitors an unforgettable adventure amidst the raw beauty of Zimbabwe's untamed wilderness.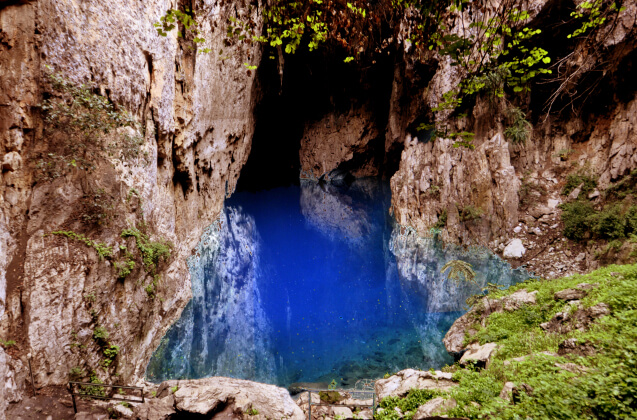 #3 Chinhoyi Caves, Zimbabwe
 Whether you're an adventure seeker or a nature enthusiast, the Chinhoyi Caves in northern Zimbabwe are a must-see. These captivating limestone caves, adorned with impressive stalactites and stalagmites, also house several underground lakes, making them one of the country's most intriguing natural wonders.The highlight here is the Sleeping Pool – a crystal-clear underground lake with stunning blue hues, which is situated 46 meters below ground level but still open to sunlight. As you descend down the paved steps, you'll find resting places along the way, allowing you to catch your breath and take in the view.
If you're a proficient scuba diver, you can even explore the watery depths further, marveling at the rock formations and mysterious underwater passages. As the most extensive cave system in Zimbabwe with public access, the Chinhoyi Caves offer an enchanting subterranean adventure, unveiling unique hidden wonders sure to take your breath away! The caves' history is also fascinating, with excavations here revealing evidence of human presence that dates as far back as 650AD. 
Guided tours are available for visitors to delve into the geological history and cultural significance of these caves and taking one of them is a must when on your Zimbabwe safari.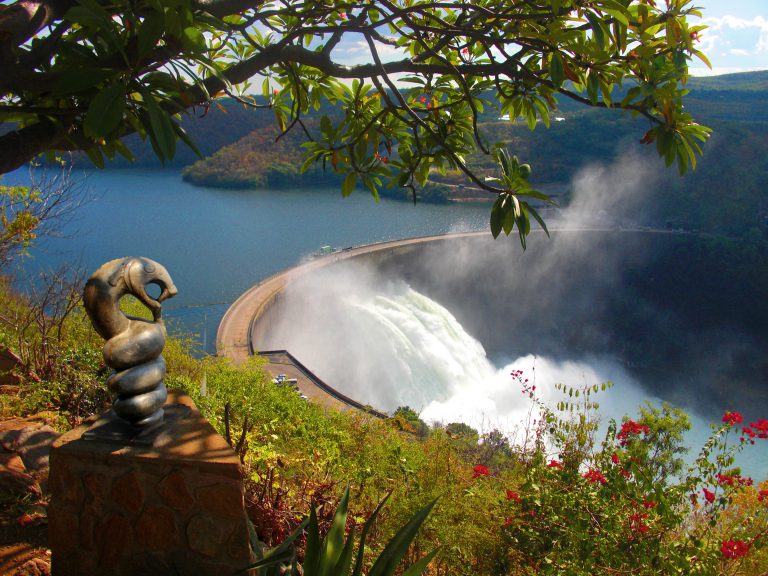 #4 Lake Kariba, Zimbabwe
 Lake Kariba is the world's largest manmade lake. Stretching across approximately 5,580 square kilometers, it's another must-visit spot during a Zimbabwe safari. Created by damming the Zambezi River, its sparkling blue waters harmoniously blend with rugged landscapes, offering a picturesque fusion of water and wilderness. The sheer size of this vast body of water makes you forget it's a dam and, in certain places, it almost feels like an ocean! With its tranquil ambiance and magnificent scenery, Lake Kariba is a true paradise, inviting nature lovers, wildlife enthusiasts, and those seeking serenity and relaxation to indulge in its captivating beauty. The lake's extensive and attractive shorelines, framed by high mountain ranges in the distance, are home to large populations of wildlife too.Crocodiles, elephants, hippopotami, and many birds, such as the fish eagle and cormorant, are drawn to the waters and the lake's abundant fish population. Humans are also drawn here for the same reasons; the reservoir is renowned for its incredible fishing opportunities! 
As such, a range of water-based activities such as sailing, canoeing, and sunset cruises are on offer at Lake Kariba too, allowing you to immerse yourself in the peacefulness of the lake's surroundings. You can even hire a houseboat to drift blissfully on the water for a number of days, creating an idyllic Zimbabwe safari experience.
#5 Mana Pools National Park, Zimbabwe
Situated further along the southern Zambezi River, Mana Pools National Park is another of Zimbabwe's captivating water-lined wildlife havens. Known for its extraordinary beauty and abundant wildlife, it has earned the status of a UNESCO World Heritage Site and is undoubtedly one of the best places for a Zimbabwe safari.The park's iconic feature is the "mana" or "four pools," which are natural depressions that transform into oases during the dry season, attracting a diverse array of animals. This unspoiled wilderness sanctuary, renowned for its extraordinary beauty and abundant wildlife, promises encounters with hippos, crocodiles, elephants, and a stunning array of aquatic birds. During Zimbabwe's dry season, the park excels as a wildlife hotspot. At this time, it offers one of the region's highest concentrations of animals, as creatures flock to the remaining pools found here when other water sources recede. These pools create a spectacular setting for game-viewing activities in particular, and you may well have the opportunity to witness lionesses hunting around waterholes, taking advantage of seemingly easy prey!
In addition to offering game drives, Mana Pools National Park is also a paradise for walking and canoeing safaris, which can allow you to see animals up close in their natural habitat. With its pristine landscapes, captivating sunsets, and remarkable wildlife encounters, Mana Pools National Park provides a really authentic Zimbabwe safari experience. 
Surrounded by untouched wilderness, you'll truly relish the feeling of getting away from it all in this beautiful Zimbabwean reserve.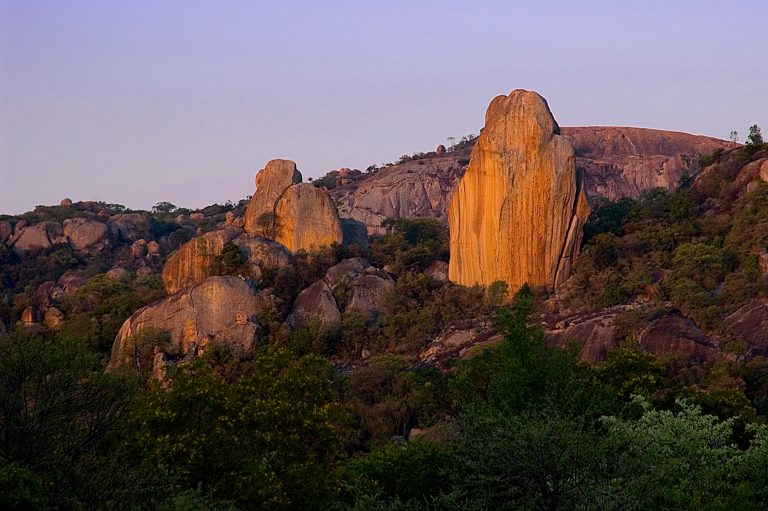 #6 Matobo National Park, Zimbabwe
 Nestled at the other end of the country, in southwestern Zimbabwe, Matobo National Park is another stunning park with UNESCO World Heritage Site status. Known for its dramatic and otherworldly landscape of balancing granite rocks known as kopjes – the towers of giant boulders teetering on top of one another are an almost unbelievable sight! Add to this the granite hills, surrounding mountains, and forested alleys and you have a truly majestic landscape! The granite hills of Matobo formed over 2,000 million years ago, when molten rock erupted across the landscape, and the site holds great cultural and historical significance, with its rich concentration of rock art sites dating back thousands of years. Matobo is also home to a diverse range of wildlife including rhinos, leopards, zebras, and numerous bird species, along with over 200 species of tree, making it another of the best places for a Zimbabwe safari. Offering incredible game drives, hiking, and rock climbing opportunities, the park also allows visitors the chance to spot local animals while exploring its rugged terrain and soaking in its breathtaking panoramas at the same time. 
The park's cultural significance, coupled with its unique natural beauty and rich biodiversity, really does make Matobo National Park an unsung highlight in Zimbabwe. In our opinion, it's a must-visit Zimbabwe safari destination if you're seeking a memorable nature, culture, and adventure experience in one place!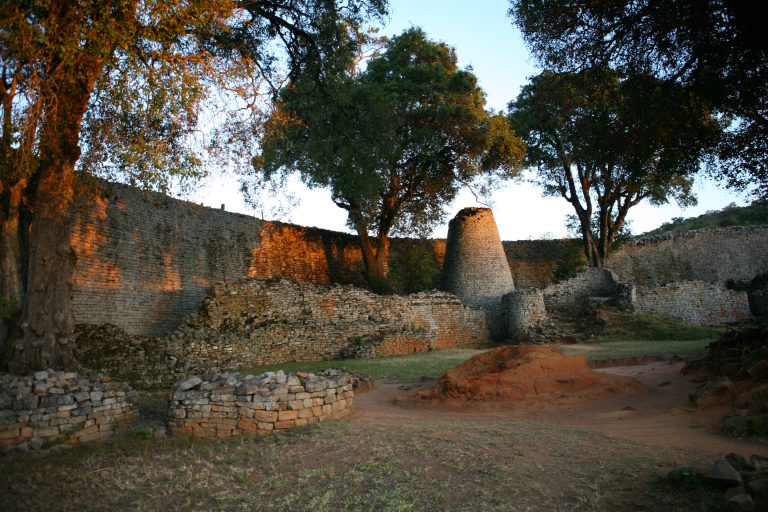 #7 Great Zimbabwe
Also of great historical and cultural significance is The Great Zimbabwe Monument, (also known as Great Zimbabwe) – a remarkable archaeological site located in the southeast of the country.  This UNESCO World Heritage Site stands as a testament to the once-thriving civilization that existed in the region between the 11th and 15th centuries. The Great Zimbabwe showcases impressive stone structures, including towering walls and intricately crafted conical towers, and offers visitors a key insight into the engineering prowess of the ancient civilization that built them, as well as the opportunity to appreciate the ingenuity of the people who inhabited this land centuries ago. Exploring these incredible ruins is a journey through time and a unique chance to connect with Zimbabwe's rich cultural heritage. Don't miss it!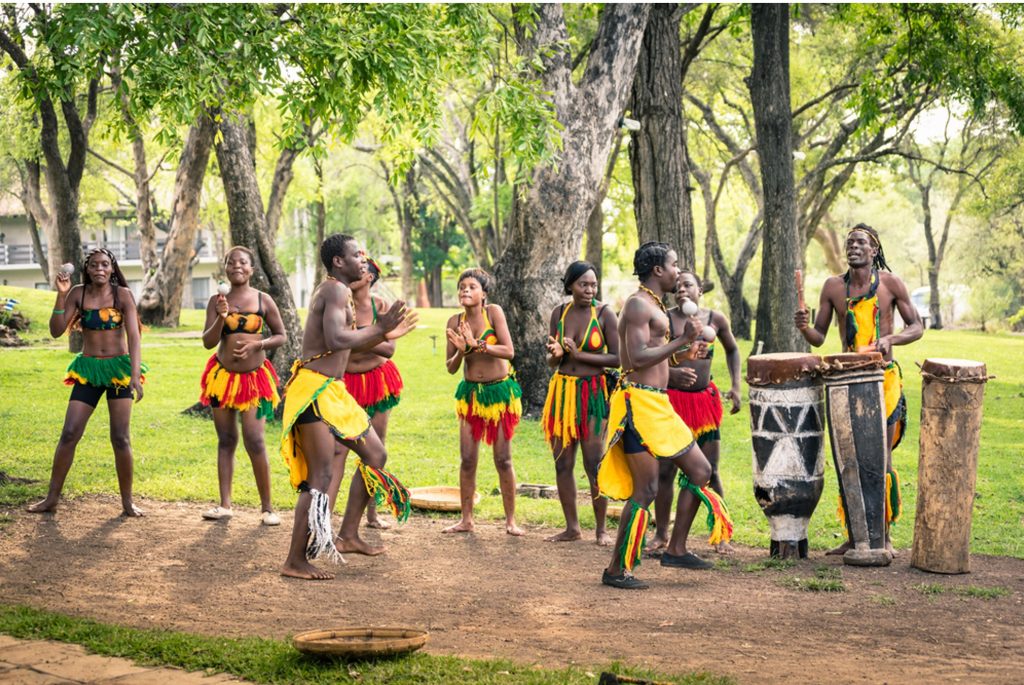 #8 The Traditional Jerusarema Dance
One of the key cultural facets of Zimbabwe is traditional dance and, across the country, there are up to 12 prominent styles, with the most famous being the Jerusarema dance. Traditionally performed by the Shona people, the Jerusarema dance is, like many ceremonial rituals in Zimbabwean culture, participatory and communal in nature. Also known as Mbende, the dance can typically be seen in eastern Zimbabwe and was traditionally performed at the marriage ceremony of a chief's daughter. Now, however, it is open to all men and women and often performed at funerals, festivals and even in competitions. The dance is led by one master drummer, who is usually accompanied by woodblock clapper sounds, clapping, yodeling and whistling. Seeing this traditional cultural practice is a real experience in Zimbabwe and one of the best places to do so is at the Jerusarema Dance Festival organized by the Zimbabwe National Traditional Dance Association (ZNTDA).
Ready for Your Zimbabwe Safari?
So there you have it: 8 of the best places for a Zimbabwe safari.
As you can see, the allure of Zimbabwe lies in the country's unique blend of wildlife encounters, cultural richness, historical significance, and natural wonders. 
Are you ready to immerse yourself in the adventure of a lifetime here?  
Come experience the best of Zimbabwe on an affordable Zimbabwe safari tour or get in touch with Zimbabwe Tourism or African Budget Safaris to start planning your trip. 
By Stephanie Parker, African Budget Safaris
Article links:
https://www.africanbudgetsafaris.com/
https://www.africanbudgetsafaris.com/tours-by-location/zimbabwe
Zimbabwe Tourism Authority 2022